Presenting a singular six-piece knitted project with Paris-based artist Céline Breton.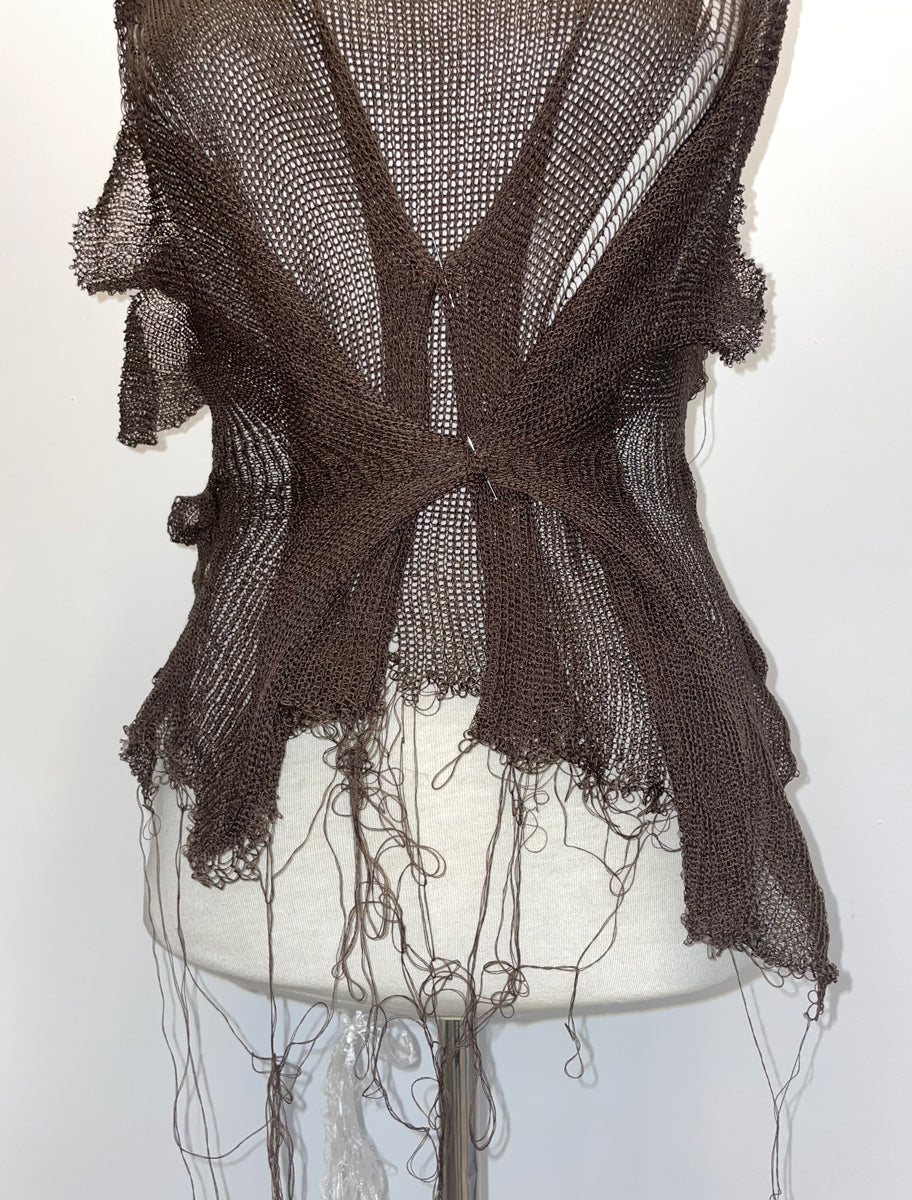 What is your background in the arts, and how does that or anything else influence what you do? 
My early background was in fashion. I was lucky that the department was transversal and open to textile experimentation; there I quickly realized that textures stimulated me more than shapes. 
I went to the Royal Academy of Fine Arts in Brussels, where the department of knitwear and textile design had open learning processes. Those years enriched me, and I still feel their influence on my work. I define my work as a "knitting investigation" because of the variety in my research, materials, and different supports that I have learned and continue to explore.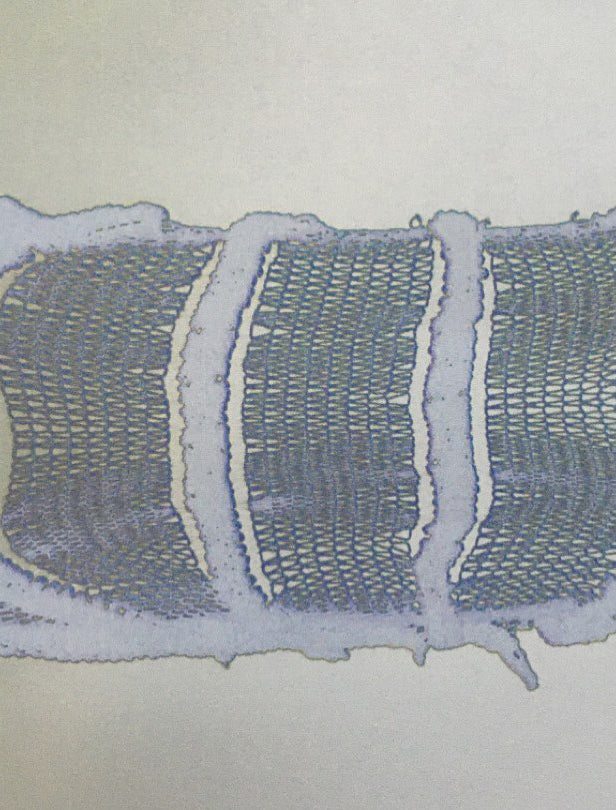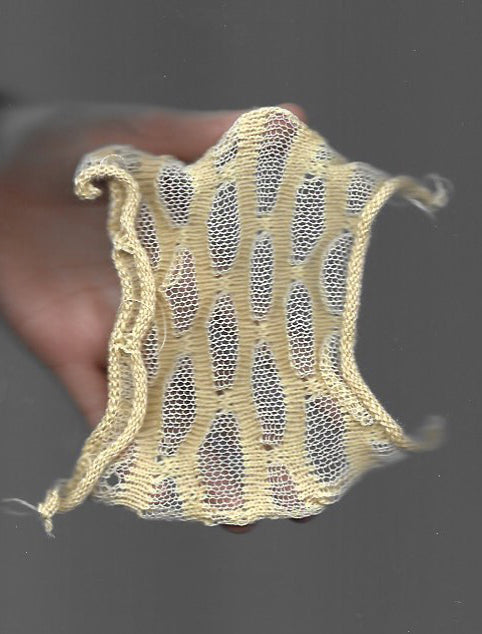 My passion for clothing remained very present and translated itself into associating textiles with bodies and movement. I wanted to explore the interactions between the textile, the object, and the body. Highlighting curves with knitting that would evolve graphically, stretching and changing according to the body wearing it.
Art has influenced my understanding of design and has given me the freedom to experiment. My partner is a sculptor, and most of my friends are artists or designers. Our conversations are mostly centered around exchanging references and concepts that in effect, route my process and make me question my positioning and perspective as a knitwear designer in the fashion industry.  These relations and relationships help me develop critical perspectives around fashion, poetry, sensitivity, and relevant politics around creation. 
I'm influenced by fashion designers who developed an experimental and rigorous approach to fashion: Margiela by Martin Margiela, Prada from the 90s, and Loewe, to name a few. Their artistic freedom and artistic shifts in fashion inspire my research.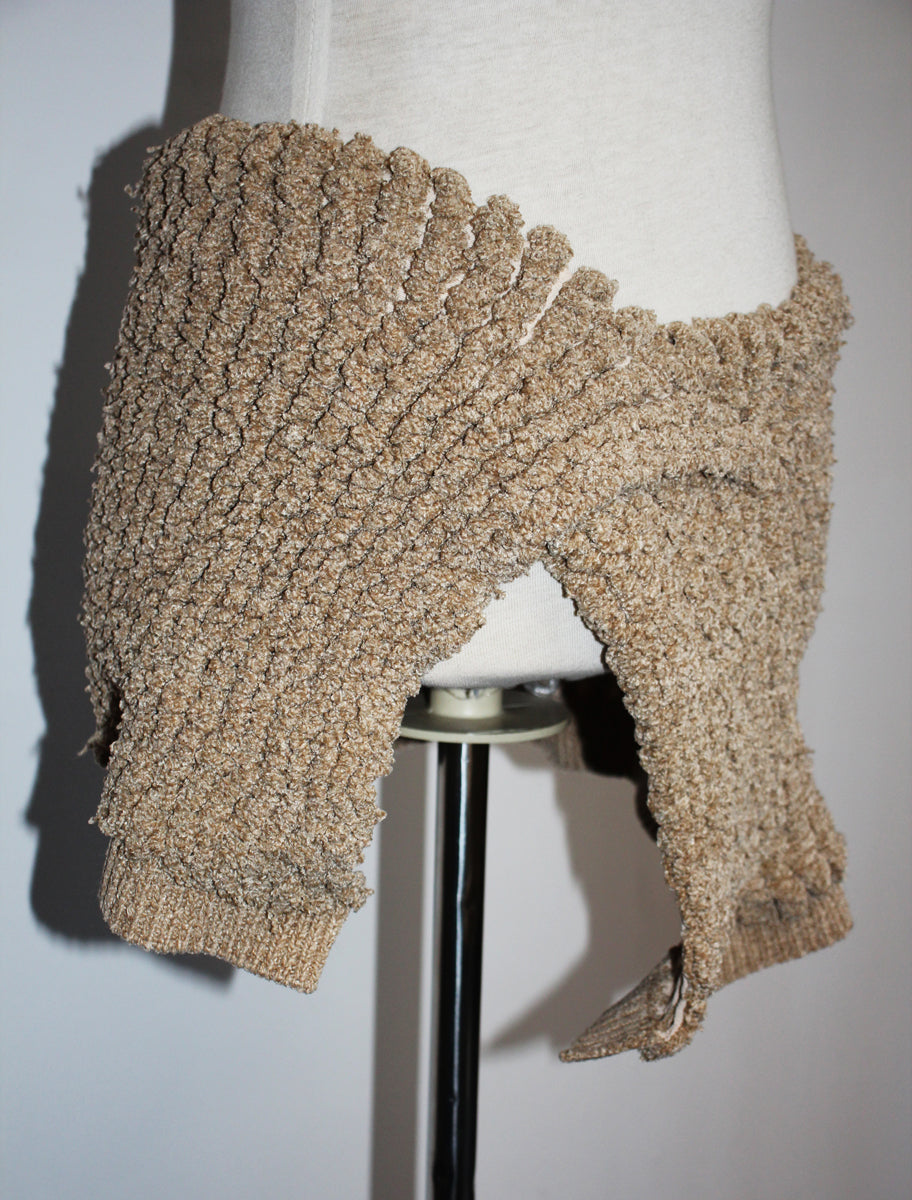 CBOU01
from COLLECTION003, 2022
What moves you to do what you do? 
The lightness and sensitivity of beauty and the aesthetic of pleasure.  
This may seem naive, but it is the things that surround us and their textures that interest me. Wood grain, flower pistils, and oxidized metal fascinate me.  Having the possibility to create my own textures and materials by associating different techniques with fabric was a revelation.  
I have my personal practice, but I also work with fashion brands by proposing textile research and handmade prototypes, which I really enjoy doing. It allows me to continue experimenting with methods and identities that are not mine. The vast possibilities of research and associations are the most stimulating part of the process for me.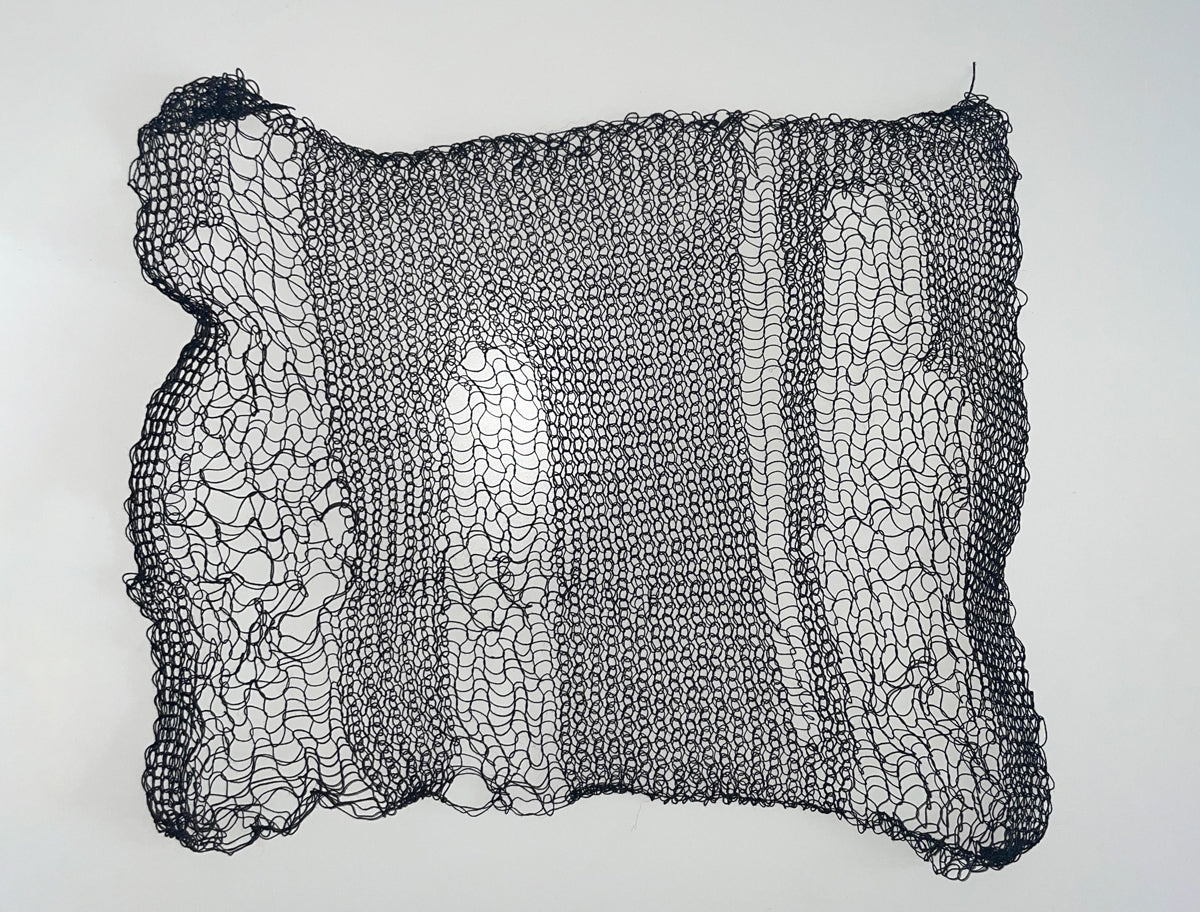 brown open stitch, swatch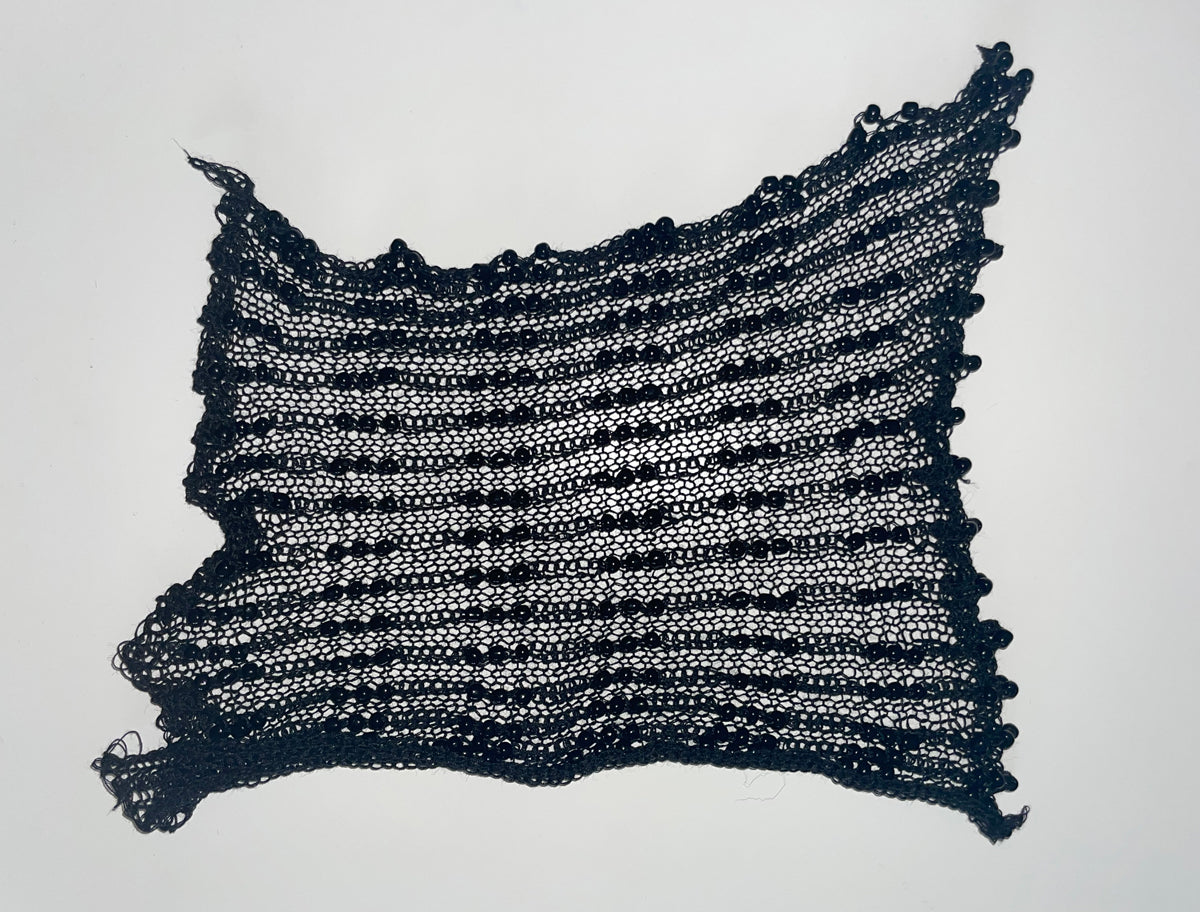 black beads stitch, swatch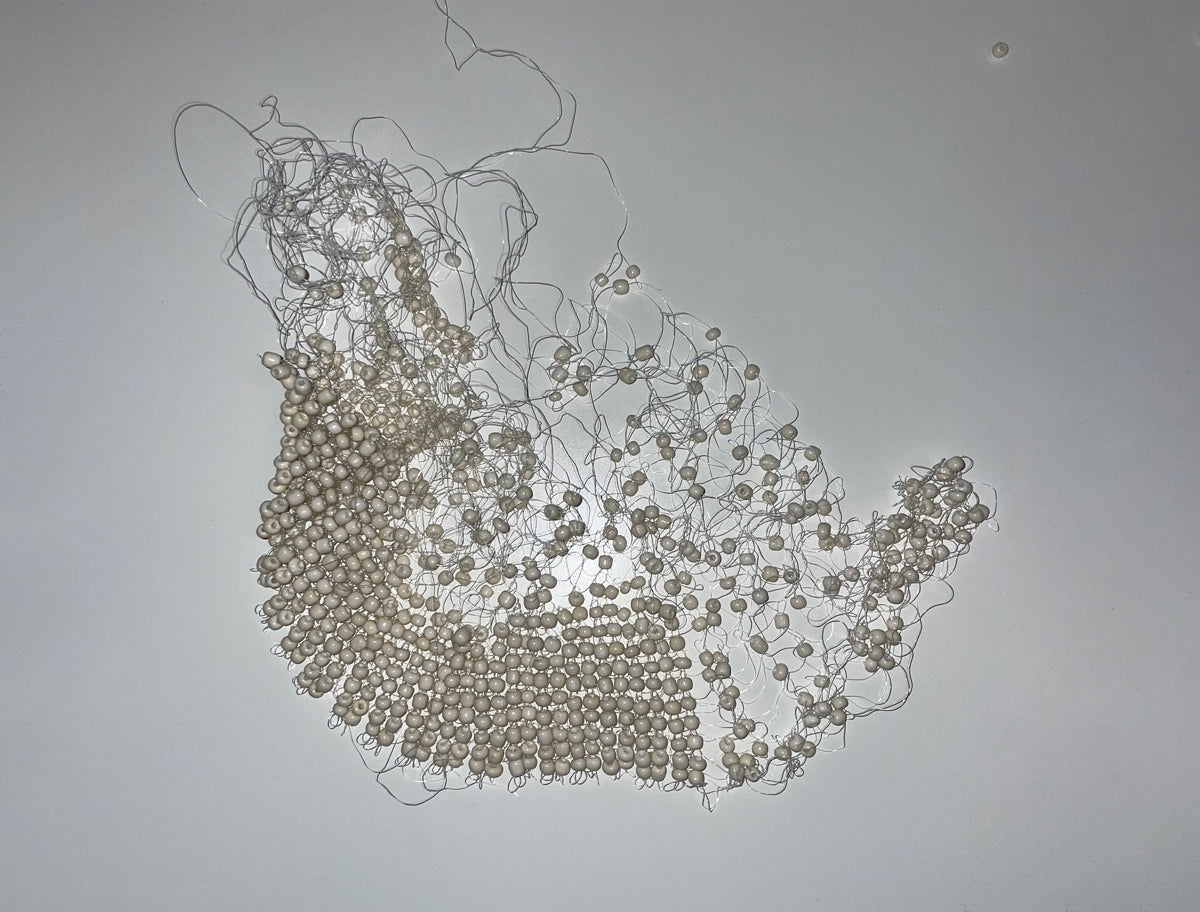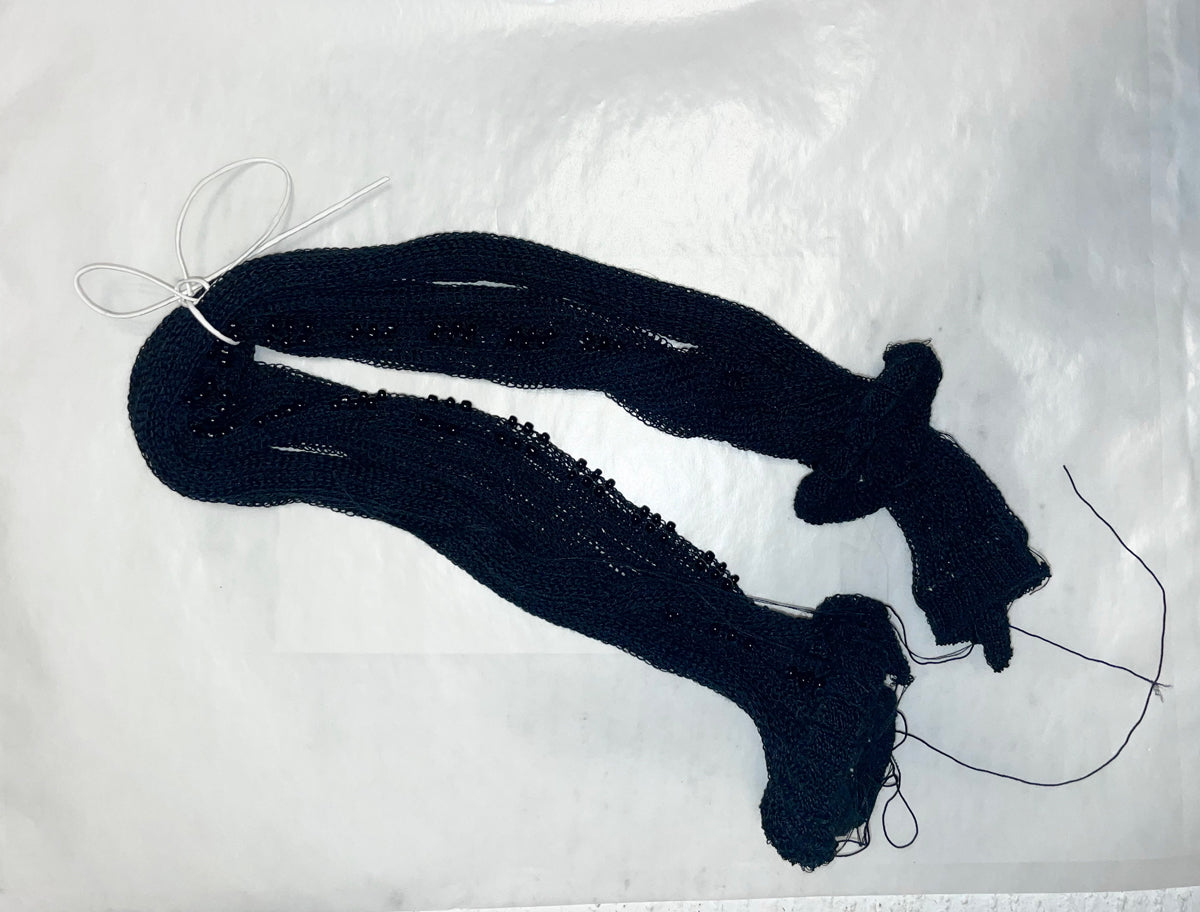 Your pieces express experimentation. What are you looking for?
I am no specifically looking for anything in particular, which perhaps is what drives my approach; to be led to unexpected results by the process itself. I like to be surprised and guided by textiles, leaving the possibility of randomness and imperfection to exist.  
I work intuitively with an initial projection and idea of texture that I associate with a technique and a yarn to play with. Most of the time, I do not arrive at what I expected, but hopefully, during the process, I discover new effects, new textures, and several curious knits. I rework the results in a series of variations. A small technical or yarn variation can change the whole look of the knitted piece.
What tools do you use? 
I work with domestic knitting machines. These are machines where human hands are needed (unlike industrial machines). Every movement and every change of stitches, colors, textures, and patterns is done by hand. You can feel and perceive the creation of the fabric happening and modify and adjust it fluidly.  
Working with these machines can be hopeless at times. The fabric can break for no apparent reason, and suddenly, all the work is lost, or everything changes, and you can't achieve the effect you were trying to create. I have learned to let go and love those imperfections, accepting that I cannot control everything. It is precisely through mistakes that I get fascinating effects.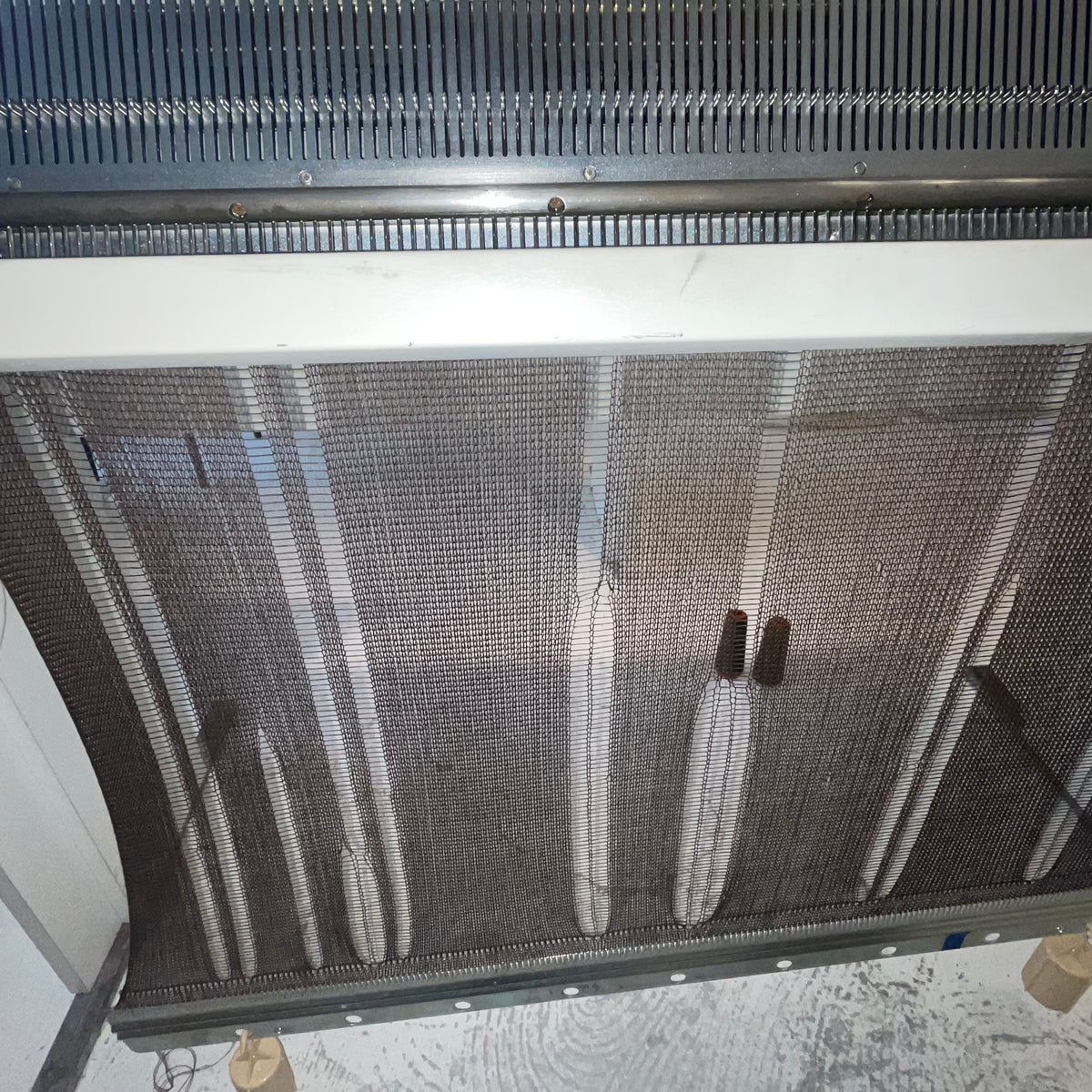 brown open stitch, production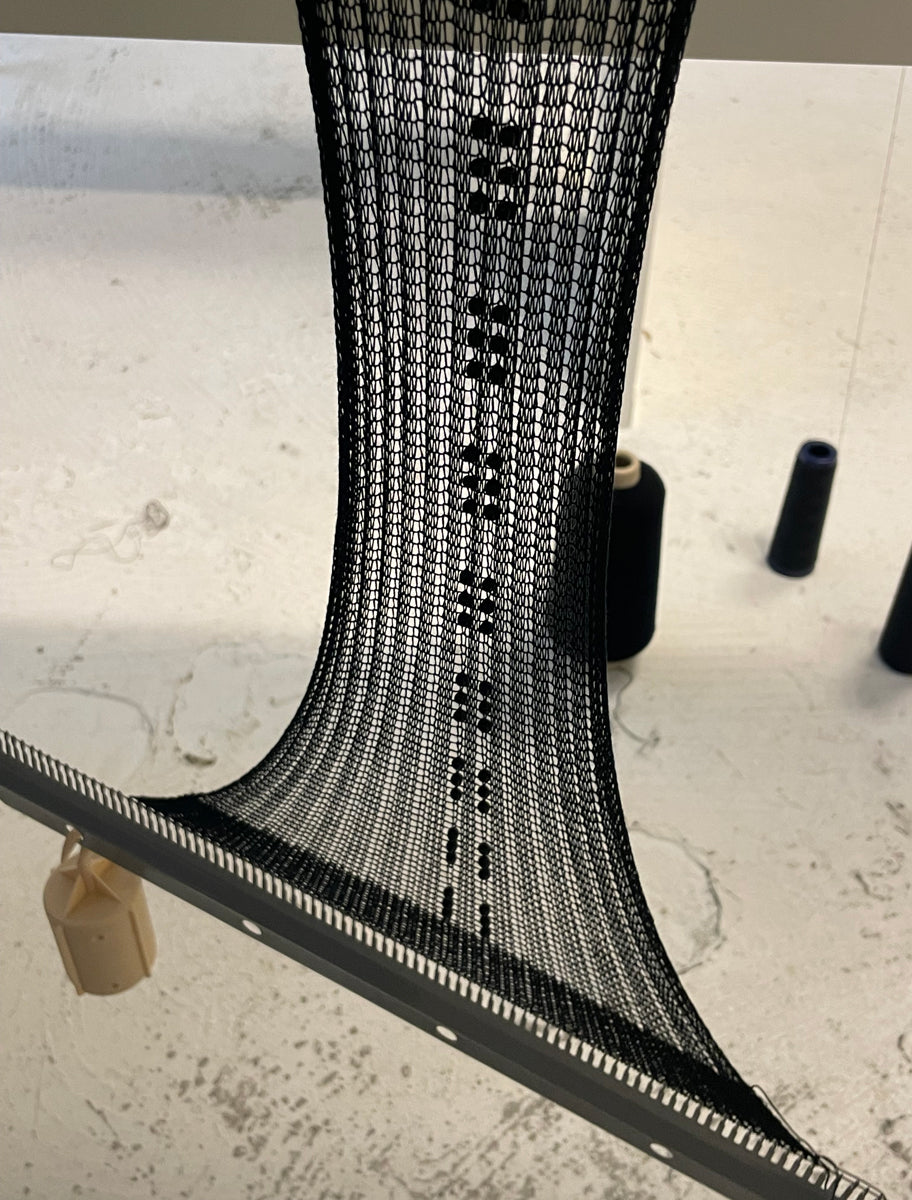 BB02, knitting production
I noticed through your Instagram that flowers in bloom move you. Are flowers an important reference for you? 
It was my very first knit project! I spent many years photographing plants and flowers.
I was so obsessed that I wanted to become a florist at some point (and also a photographer ). Their textures inspired me to create a new knit vocabulary; organic,  delicate, but also quite odd and poetic. I love their ephemeral, fragile, and evolving aspects. These are concepts that are still present in my experiments. My garments can have different textures and graphics on a flat surface than on a shape. The body curves provide life to the knitwear by hybridizing the textile.
Do you have other artistic references for your work? 
The Brussels contemporary art scene for most of it. I spent my last five years there, and the rough and wild aspect of the city, and the Belgian political and cultural statement, generally speaking, influenced me a lot.  I was able to discover many artists like Léa Belooussovitch, whose work in felt offers softness while representing scenes of great violence (Young Belgium - Opus 1 - Ineffable, 2021 La  Patinoire Royale gallery, Brussels), deafening and striking pieces of Peter Buggenhout (…use menace, use prayer…, 2020, at Axel Vervoordt gallery Antwerpen) or an exhibition of the photographer  Wolfgang Tillmans (Today is the first day, 2020 Brussels) at the WIELS Centre where flower photographs and the use of flash were striking to me. This raw and almost brutal artistic sphere that gravitates in Brussels led me to explore the fragility and delicacy of my knits to the unpredictable.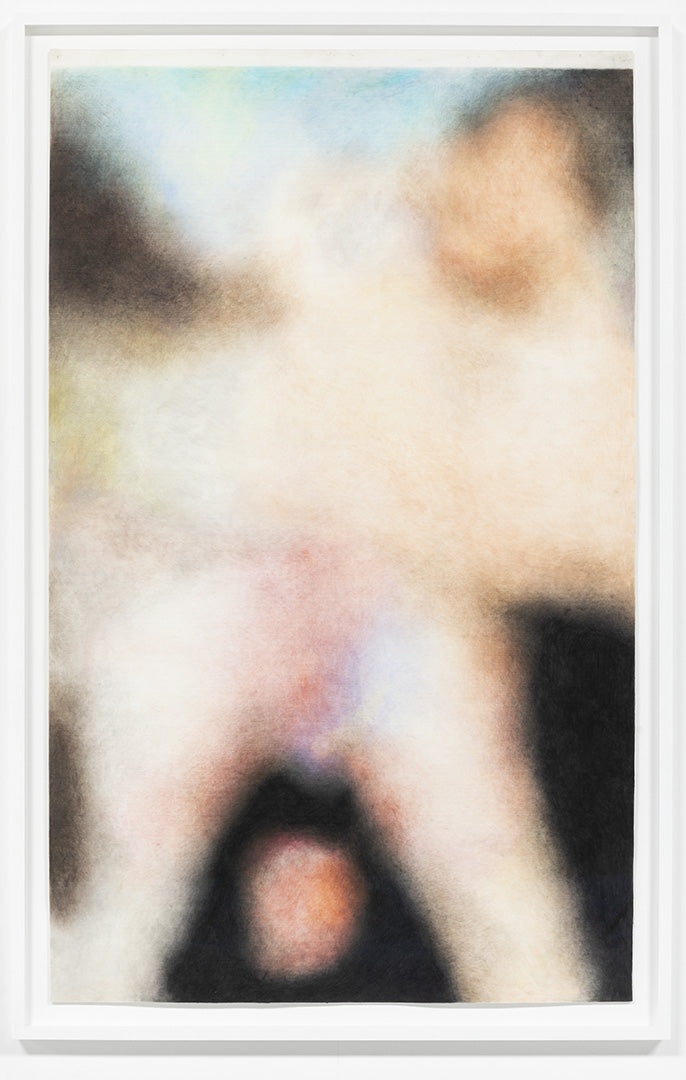 Le Caire, 2015
Léa Belooussovitch, Young Belgium Ineffable (Opus 1), 2021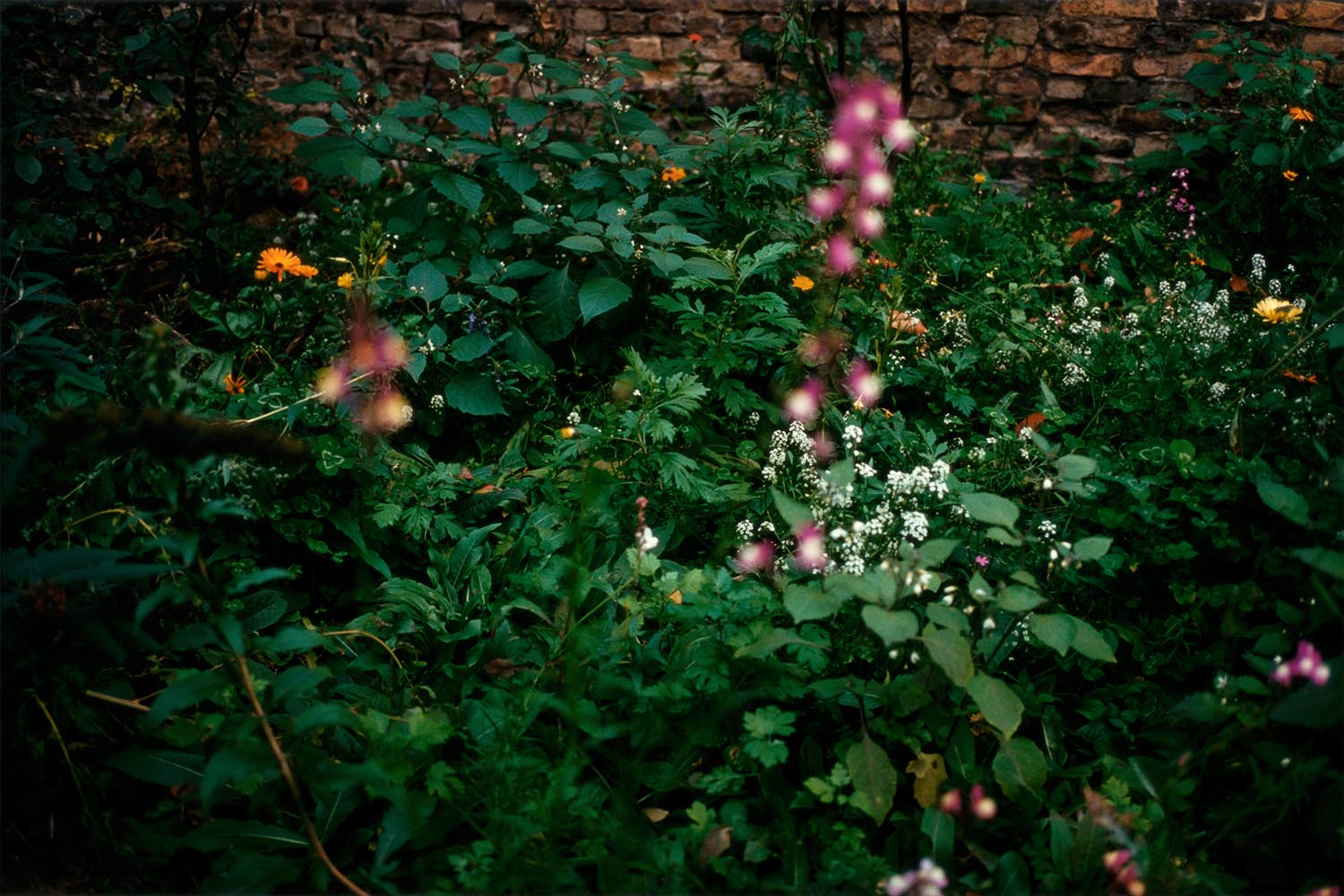 Garten, 2008
Wolfgang Tillmans, Today is the first day, 2020 at the WIELS Centre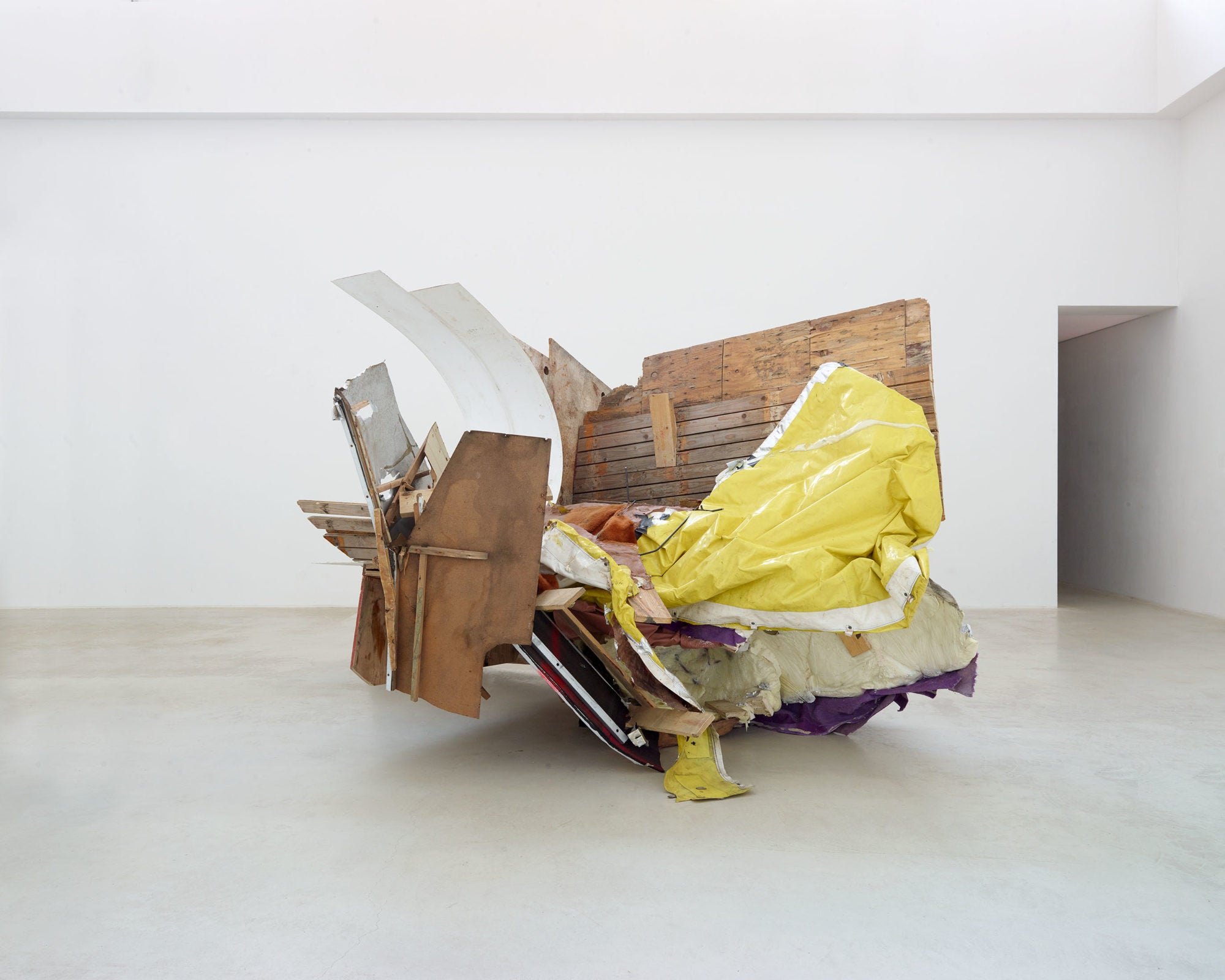 Installation view of On Hold #13
Peter Buggenhout,... use menace, use prayer... (part II) at Axel Vervoordt Gallery, 2020

What was the technical process throughout this particular project with paloma wool?
Very free! The possibilities were infinite and, therefore, very exciting. The main idea was to propose a stitch that could not be made industrially, handmade, and unique. I started experimenting on my knitting machine with different types of stitches, yarns, and techniques. 
We quickly talked about beads. This a time-consuming technique as each bead is inserted individually and row by row. It is a technique that represents well the preciousness of hand labor. I particularly like associating beads with transparent yarns, as it gives the feeling that the beads are little touches of colors on the body.
We developed three different knitting techniques (a transparent nylon yarn with condensed beads, a very thin sewing yarn with a different bead rhythm, and a thin open-stitch knit which gives an impression of error and imperfection). These choices are interesting because the beads give a soft and sophisticated look while the open-stitch fabric looks raw. By working mostly in ribbing, the garments are stretchy and adapt to different bodies. The graphic evolution of the knitwear will also change depending on the person wearing it. Offering one-size-fits-all clothing was an important matter for this project.
During the process, we had a very fluid and constructive exchange. Once the prototypes were validated, I started the production of the pieces in my atelier in Paris. All the pieces were knitted and assembled by hand here.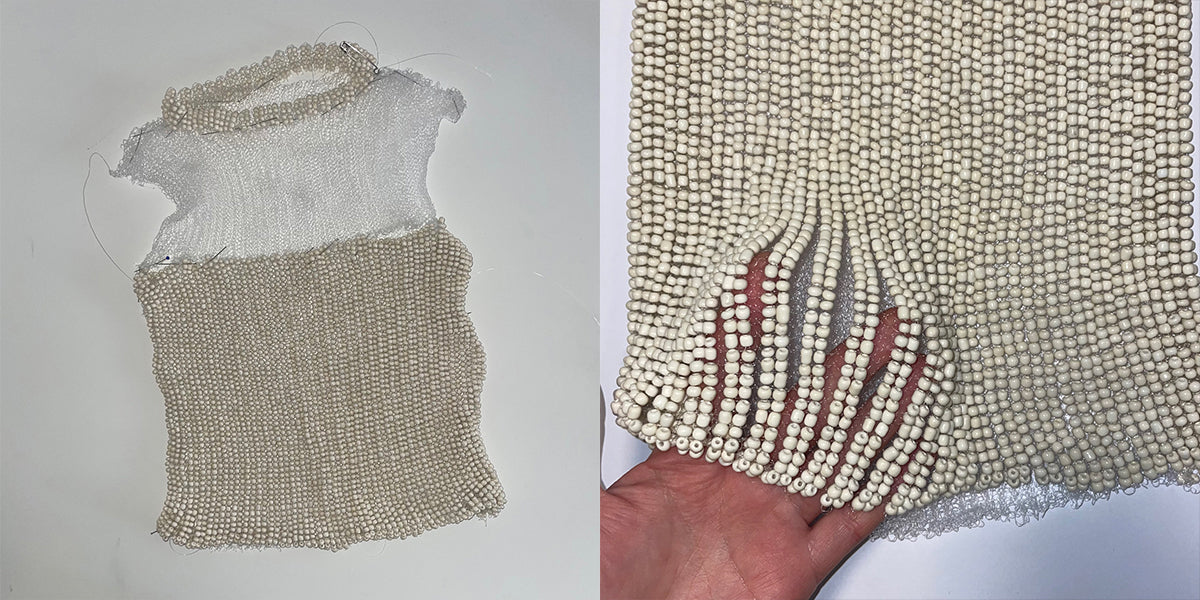 Do you have a dream project? 
I would love to have the opportunity to experiment further with fashion brands that have a rich and important history. There are so many possibilities that knitwear can remain fun, varied, new, and stimulating.